LA's Preferred House Cleaning Service, Maid For LA, receives a lot of questions from potential and current customers. Here are the 5 most common questions we receive:
How much does it cost to hire a house cleaner?
The cost of hiring a house cleaner varies depending on the size of your home, the frequency of cleaning, and the location of your home. In general, you can expect to pay between $25 and $50 per hour per house cleaner.
What services do most house cleaners offer?
Most house cleaners offer a variety of services, including:
🧹 Vacuuming and 🧽 dusting
🚬 Mopping and sweeping
🧼Cleaning the kitchen and bathrooms
Doing laundry
Taking out the trash
Other tasks, such as window cleaning and ironing, may be available for an additional fee.
How do I find a reliable house cleaner?
There are a few different ways to find a reliable house cleaner. You can ask your friends, family, or neighbors for recommendations. You can also search online for house cleaning services in your area. Once you have found a few potential candidates, be sure to interview them and check their references before making a decision.
What should I do to prepare for a house cleaning?
Before your house cleaner arrives, be sure to declutter your home and remove any items that you do not want them to clean. You should also provide them with access to all of the cleaning supplies that they will need.
What should I do if I am not happy with the work of my house cleaner?
If you are not happy with the work of your house cleaner, be sure to speak to them directly. If the issue is not resolved, you can always find another house cleaner.
Here are some additional tips for hiring a house cleaner:
Get quotes from multiple cleaners before making a decision.
Ask about the cleaner's experience and qualifications.
Make sure the cleaner is insured and bonded.
Set clear expectations for the cleaning services you want.
Be home when the cleaner arrives for the first time.
Provide the cleaner with access to all of the cleaning supplies they will need.
Tip the cleaner at the end of each cleaning.
Have us take out the trash 🚮 – Become a happy customer! 👍 …100% Satisfaction Guaranteed!
We hope this blog post has answered some of your questions about hiring a house cleaner. If you have any other questions, please feel free to contact us. We would be happy to help you find the perfect house cleaner for your needs.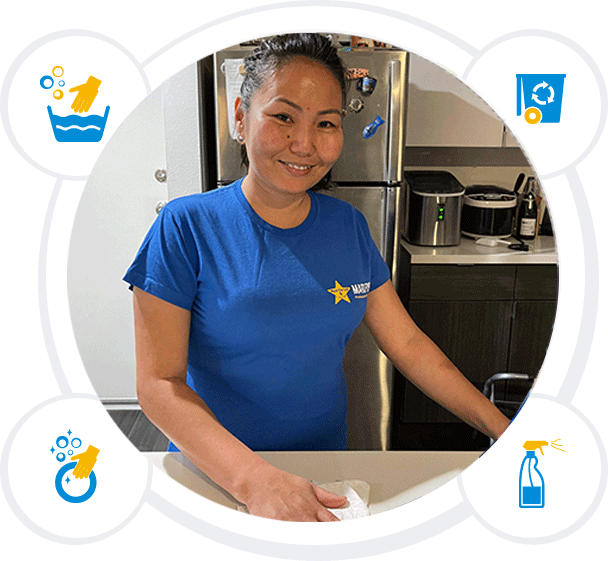 From our customers…
Once upon a time, there was a busy working mom named Sarah who never had time to clean her house. She was always running around, taking care of her kids, working, and running errands. One day, she decided to hire a house cleaner to help her out.
Sarah was nervous about hiring a stranger to come into her home, but she was also excited to have some help. She interviewed a few different cleaners and finally decided to hire a woman named Maria.
Maria was a kind and hardworking woman. She arrived at Sarah's house early every morning and worked until late at night. She vacuumed, dusted, mopped, and cleaned the bathrooms. She even did the laundry and took out the trash.
Sarah was so happy with Maria's work. She didn't have to worry about cleaning anymore and she had more time to spend with her family and friends. Maria was a lifesaver!
One day, Sarah came home from work and found Maria dancing in her living room. Maria was singing and cleaning at the same time. Sarah was so surprised and amused. She had never seen anyone clean so joyfully before.
Sarah asked Maria why she was dancing and cleaning. Maria said, "I love cleaning! It's so much fun to make a house look clean and shiny. And it's even more fun when I get to do it for someone who appreciates it."
Sarah was so touched by Maria's words. She realized that she had taken cleaning for granted. She thanked Maria for her hard work and told her how much she appreciated her.
Maria smiled and said, "I'm glad I could help. And I'm glad you're happy with my work."
Maria continued to clean Sarah's house for many years. She always came early, worked hard, and left Sarah's house spotless.
Connect with us on Facebook!
https://www.facebook.com/Maidforla
Call today MAID FOR LA!